IMMENSIVA RESIDENCY SHOW 2021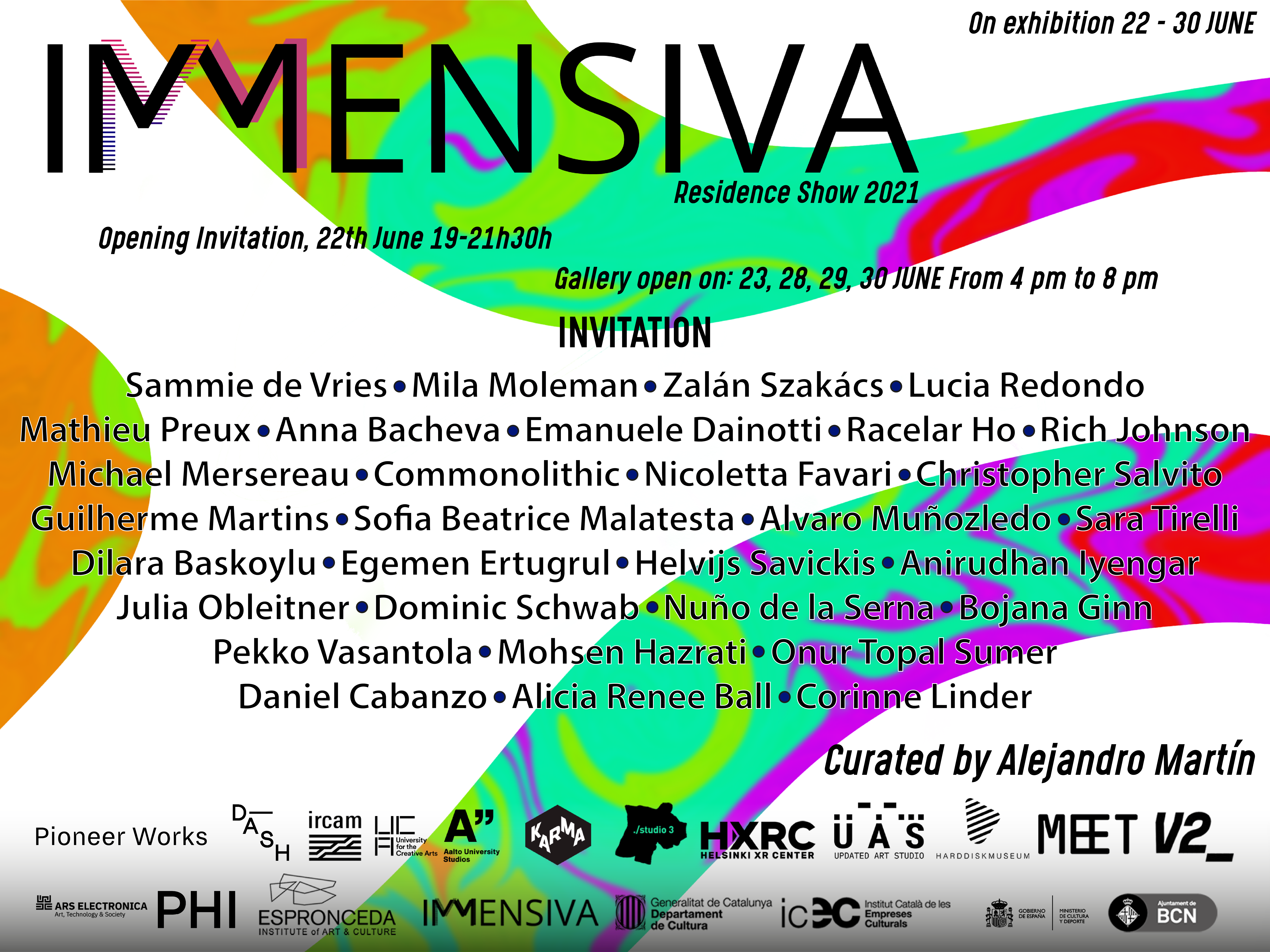 Opening on June 22 from 7pm to 9.30pm.
On display from 23 to 30 June, working from 4pm to 8pm.
ESPRONCEDA – Institute of Art & Culture, through its platform IMMENSIVA, has stayed optimistic during the pandemic and organized its international residency program again to generate interdisciplinary projects resulting from collaboration between visual artists, musicians, architects, coders and other creative professionals.
IMMENSIVA International Residency 2021 has taken place from May 3 to June 20, 2021. Following the collaborations with international partners: universities, art centers and outstanding professionals, and this year expanding the network, a process of pre-residencies in 12 international cities: Barcelona, ​​Paris, London, Milan, Istanbul, Innsbruck, Helsinki, Rotterdam, Montreal, NYC, Atlanta and Los Angeles. During the period from May 1 to 15, the artists selected in the Open Call were able to participate online in three workshops on Creative / 3D Sound (IRCAM), sound and artificial intelligence (Sussex University) and interactive and immersive technologies (Kimatica Studios), in addition, the artists met in a collaborative VR platform designed by IMMENSIVA, a virtual residency for artists. At the same time, in each city the artists had a mentor who assisted them in the ideation of their projects and accompanied them to the associated media labs.
The second phase of the residency was in Barcelona, ​​from May 17 to June 20.
During this period, live workshops on Creative Sound / 3D sound were once again organized by IRCAM (Center Pompidou) and on interactive and immersive technologies (Kimatica Studio and Solimán López). They also attended the AI4Future days, organized within the framework of the European project of the same name and which took place on June 3 and 4 with workshops and round tables on artificial intelligence and creation of worlds, in collaboration with the UPC, as well as a day dedicated to the New European Bauhaus with institutional representatives, artists and experts, ending with a workshop / think tank for activism on social issues of projects carried out in Barcelona, ​​organized in collaboration with PlantaUNO / Transit Projectes. During that week, the artist Refik Anadol exhibited in our space the work "Melting Memories", generated by artificial intelligence and using data from electrical brain signals obtained by Neuroscape Laboratory. https://refikanadol.com/works/melting-memories/
Furthermore, residents attended the virtual reality festivals that Espronceda hosted: XR3 (Cannes, Tribeca and New Images) from June 9 to 20 and the dance show in virtual reality and real time from different cities: La Comédie Virtuelle by Cie Gilles Jobin, June 12, 13, 19 and 20.
The artists worked in teams of 2, 3 or 4 people, and at the end of the residency they prepared an exhibition of the prototypes and the generated projects, which opened on June 22, on display until June 30.