REFIK ANADOL – MELTING MEMORIES
From 5 to 9 June, Espronceda – Institute of Art & Culture will present Refik Anadol's project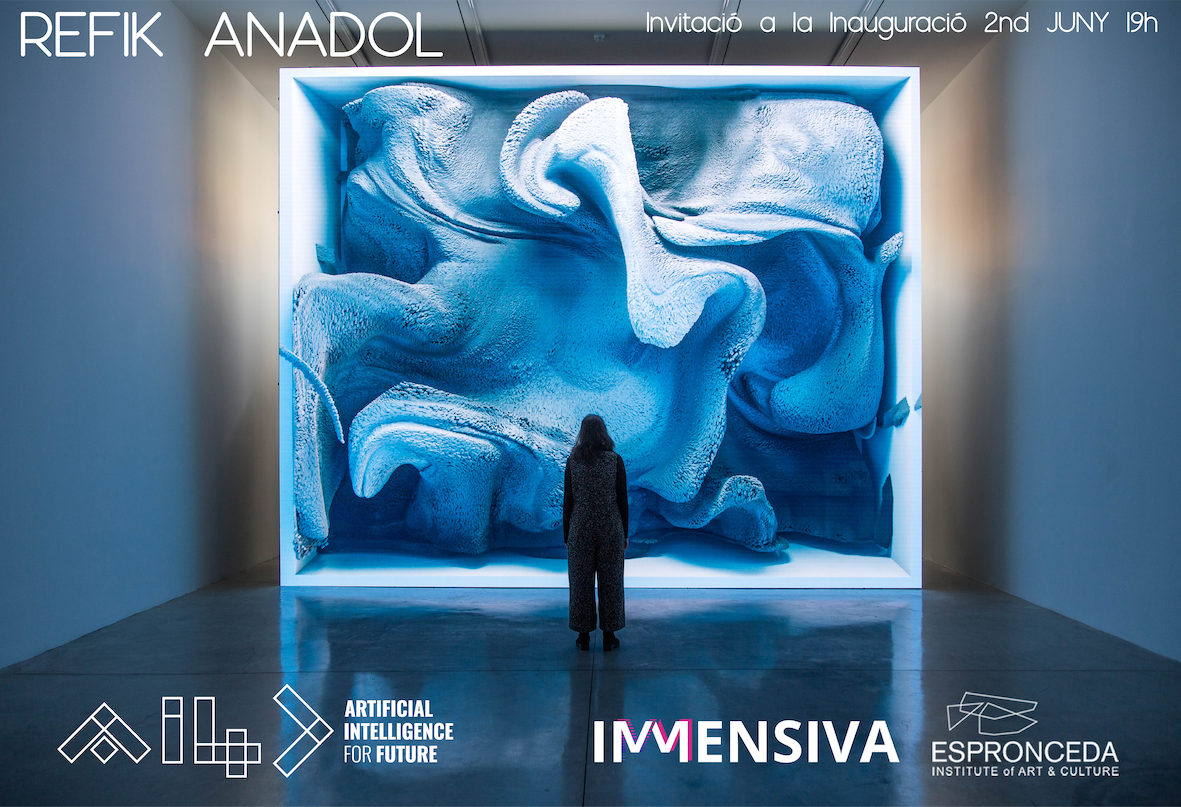 "Melting Memories", offers new insights into the representational possibilities emerging from the intersection of advanced technology and contemporary art. By showcasing several interdisciplinary projects that translate the elusive process of memory retrieval into data collections, the exhibition will immerse visitors in Anadol's creative vision of "recollection."
"Science states meanings; art expresses them," writes American philosopher John Dewey and draws a curious distinction between what he sees as the principal modes of communication in both disciplines. In Melting Memories, Refik Anadol's expressive statements provide the viewer with revealing and contemplative artworks that will generate responses to Dewey's thesis.
Comprising data paintings, augmented data sculptures and light projections, the project as a whole debuts new advances in technology that enable visitors to experience aesthetic interpretations of motor movements inside a human brain. Each work grows out of the artist's impressive experiments with the advanced technology tools provided by the Neuroscape Laboratory at the University of California, San Francisco. Neuroscape is a neuroscience center focusing on technology creation and scientific research on brain function of both healthy and impaired individuals. Anadol gathers data on the neural mechanisms of cognitive control from an EEG (electroencephalogram) that measures changes in brain wave activity and provides evidence of how the brain functions over time. These data sets constitute the building blocks for the unique algorithms that the artist needs for the multi-dimensional visual structures on display.
Anadol's installations do not only address a productive espousal of cutting-edge technology and art but also a strong preoccupation with the study of human memory from Ancient Egyptians to Blade Runner 2049. The exhibition's title, Melting Memories, refers to the artist's experience with unexpected interconnections among seminal philosophical works, academic inquiries and artworks that take memory as their principal themes. The title further draws attention to the melting of neuroscience and technology into these centuries-long philosophical debates, questioning the emergence of a new space where artificial intelligence is not in conflict with individuality and intimacy.
CREDITS:
Designed & Developed at Refik Anadol Studio
Nicholas Boss
Efsun Erkilic
Kian Khiaban
Ho Man Leung
Raman K. Mustafa
Toby Heinemann
Sound Design : Kerim Karaoglu
Software Development : Kyle McLean / Steffan Klaue
Scientific Support
UCSF / Neuroscape Lab Members
Adam Gazzaley, M.D., PH.D.